Android TV Box Resource Guide

What Is An Android TV Box?
An Android TV Box is a device that connects to a television and allows access to movies, TV shows, live channels, games, and more.
This page includes affiliate links where TROYPOINT may receive a commission at no extra cost to you. Many times, you will receive a discount due to the special arrangements made for our visitors. I will never promote something that I personally don't use or recommend. Purchasing through my links directly supports TROYPOINT which keeps the content and tools coming. Thank you!
The term "Android" is used to describe the operating system that powers these entertainment hubs.
Android TV Boxes come in all shapes and sizes.  Some are distributed by well-known electronic manufacturers whereas others are generic boxes that usually ship from China.

As of this article, the most popular Android TV Box is the Amazon Fire TV Stick 4K.  This inexpensive small plastic rectangle is powered by Android OS and is extremely popular because of the free
media that may be accessed after jailbreaking it.
Due to the open nature of the Android Operating System and popularity, app developers and box manufacturers find this a great platform to use.
There are literally thousands of applications available in the Google Play Store or Amazon App Store.  If an app isn't available in one of these app stores, it can be sideloaded onto the device.
The process of sideloading on an Android device is simple and allows users to use any application made for that platform.
There are other media boxes such as Roku and Apple TV but these devices are less popular due to their closed systems.
Its important to understand that there are different versions of the Android Operating System used on these various devices.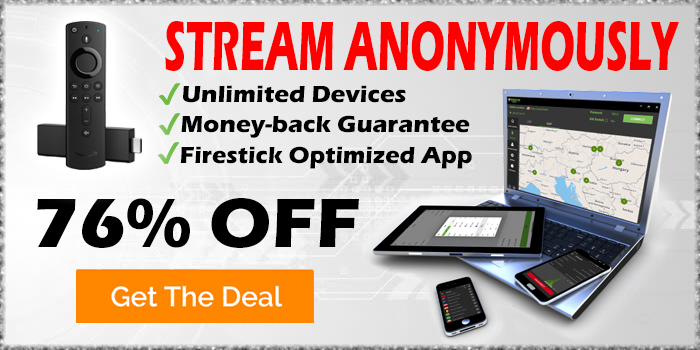 Android TV VS Stock Android
Each Android TV Box is powered by either Android TV, an Android TV derivative such as Fire OS, or Stock Android.
Android TV is Google's operating system that has been created to perform nicely with a television and remote control.  Amazon also produces a similar Android operating system for the television called Fire OS.
Both Android TV and Fire OS provide a friendly 10-foot experience which means navigating the screen is a simple task on these devices when sitting on the couch in your living room.
You can think of Stock Android as the type of operating system that you would find on an Android phone or tablet.  This operating system is not optimized for the television but the distributors of these boxes create custom launchers which makes it possible to navigate on a TV with a remote.
I usually refer to the Stock Android Boxes as "generic Android TV Boxes" due to the fact that there are hundreds of these available through the Internet and most are shipped from China.
Examples of Android TV Devices
Examples of Fire OS Devices
Examples of Stock Android Devices (Generic Android TV Boxes)
Note:  Some manufacturers install hacked versions of Android TV onto their devices.  Everything appears to work the same as an NVIDIA SHIELD but its not the same.
We saw this with the MECOOL M8S PRO L where Chromecast didn't work properly.  Also, we couldn't stream in HD on apps such as Netflix and Amazon Prime.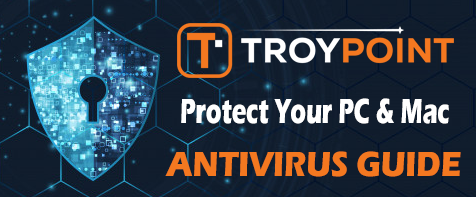 Don't get me wrong, the M8S PRO L is a great system but there are a few things lacking that we normally see in the full blown Android TV experience.
Let's now examine the pros and cons of both Android TV and Stock Android systems.
Android TV & Fire OS Pros & Cons
Pros
Excellent user interface – As mentioned earlier, Android TV and Fire OS were created for the television and this is why the user interface works so well.
All Google Play Store and Fire OS apps are optimized for television – The Google Play Store that you find on Android TV systems is different than what you find on Stock Android.  The app store on Android TV boxes only allows applications that have been optimized for the television.  So, if the app you're looking for is available on your Android phone but isn't available on your NVIDIA SHIELD, its due to the fact that the developer hasn't created an Android TV release.  This can also be a con which you will see below.
Sideloading available – We can sideload applications onto the device if they aren't available through their respective app store.
Quality components – Both Amazon and NVIDIA are well-respected brands and they will ensure that the best components are used in their hardware.
Android updates applied – Most Android TV systems come from credible vendors and therefore they issue Android updates when they become available.
Great for gaming if specs meet game requirements.
Cons
Limited app store – Only apps that have been optimized for the television will be available to install through Google Play Store or Fire OS.  But, keep in mind that we can always sideload what we need if necessary.
Advertisements – Amazon Fire OS and some Android TV systems have started placing ads on the launcher of these boxes.  This is how Amazon can get away with charging the small price for the Fire TV Stick 4K.
Less open – These devices are not rooted which means there are some things that we can't customize and apps that can't be used.
Less storage – These devices usually come with limited internal storage.
Stock Android Pros & Cons
Pros
Access to most apps through Google Play Store.
Most are rooted allowing for maximum customization.
More bang for your buck in terms of storage and processing power.
Easier to modify due to open Stock Android system with no locks in place.
Cons
Android updates are usually limited or non-existent.
Limited customer support since most are distributed from China companies.
Remote control experience is less than optimal.
Netflix & Amazon Prime apps usually don't stream in High Definition quality.  This may be the case for other paid premium services as well.
Most applications that you install aren't designed for remote control.
How To Choose An Android TV Box
There are hundreds of different Android TV Boxes on the market and the thought of picking the proper one can be a daunting task.
You should first consider what you will be using the system for.
Will it be used to access premium on-demand portals such as Netflix, Hulu, or Amazon Prime?
Will you use it to stream movies and TV shows from various free APKs (Android Apps) or IPTV services?
Do you want to play games on your Android TV Box?
Best Android TV Boxes
NVIDIA SHIELD
If you're new to cord-cutting, I suggest first using an Android TV Box that is distributed by a reputable manufacturer such as Amazon, or NVIDIA.
These distributors usually provide ongoing updates which should provide a quality streaming system for at least two to three years.
If you're more technically inclined and like tinkering with electronics then a generic stock Android TV Box may be for you.  Keep in mind that these usually don't receive future Android updates and support is very minimal.
Don't get too hung up on the fact that you might not receive future Android updates.  Let's be honest, the changes from Android 7 to 9 aren't very noticeable.  Plus, you will probably be due for a new streaming device in two or three years anyway.
A few things that I like about the Generic Android TV Boxes are large storage, multiple USB ports, Ethernet port, and fast processor.  When looking at the popular Fire TV lineup, you will notice that storage is minimal, limited USB support, and no Ethernet port.
There are many TROYPOINT subscribers who've tried a generic Android TV Box on a television in a spare room, garage, etc.  They then find that they actually like it better than those offered by the more popular distributors such as Amazon and NVIDIA.  So, if you want to dive into one of these generic Android TV Boxes, maybe try it on a spare TV first to see if you like it or not.
If you're into gaming, then look no further than the NVIDIA SHIELD.  This Android TV Box was made for both streaming and games.  You can also purchase this system with a dedicated NVIDIA game pad.
If you use services such as Netflix & Amazon Prime on a regular basis, I suggest staying away from the generic Android TV Boxes.  As of this post, these services don't stream HD content and the apps are usually difficult to navigate on the generic boxes.
See our post on the Best Android TV Boxes for 2019.
Android TV Box Apps
TROYPOINT App with Rapid App Installer
There are literally thousands of apps that you can install onto your Android TV Box.
Even if you can't find your desired application in your respective app store, you can still sideload it onto your device.
See our post on the Best APKs for Android TV Boxes.
The Android operating system also allows us to run gaming emulators that serve up non-stop fun with our favorite retro games!  Simply connect a compatible game pad and enjoy hours of fun playing the most popular games from decades ago.
Happy Chick on Fire TV/Stick & Android TV Boxes
RetroArch on Fire TV/Stick & Android TV Boxes
Get my free TROYPOINT App and install all of the best Android TV Box applications and tools in a matter for minutes.  This free application has been used by over 500,000 cord cutters and I'm confident that you will find it helpful as well.
Click Here for TROYPOINT App with Rapid App Installer
User Interface
If you get into sideloading applications, more than likely you will come across some apps that don't work well with the included remote on any Android TV Box.
You may be using an application on Android TV that is designed for phones and tablets and doesn't work well with a remote.  The same can happen on Fire OS and Stock Android.
Stock Android devices usually come with a mouse pointer through the remote control but in my experience, these remotes are cheap and don't work very well.
The good news is that we can upgrade the remote that we use on Any Android TV Box.
If you're serious about this hobby, you will purchase an air mouse with a mini keyboard.  It makes it so much easier navigating applications that aren't optimized for the version of Android that you're using.  Plus, it includes a keyboard so its easier for you to type on the screen.
TROYPOINT recommends the MX3 Pro Mini Keyboard Air Mouse Remote.
An air mouse remote allows you to click items on the screen with a pointer and you can move said pointer around by moving the remote.
TROYPOINT Tip:  Most of these remotes/keyboards connect to your device in one of two ways; 2.4Ghz wireless dongle, or Bluetooth.  If you're using a Fire TV Stick or an Android TV Box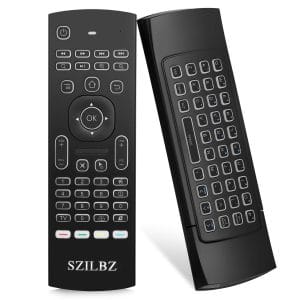 that doesn't come equipped with a USB port, you will need an OTG cable to connect a 2.4Ghz wireless dongle.
I personally prefer the 2.4Ghz wireless dongle due to better reliability than Bluetooth but both should work fine on most Android TV Boxes.
If you're using a Fire TV Stick, Fire TV, or Android TV Box (not Stock Android), you may also install an application called Mouse Toggle.
There's no need for this application on most generic Android TV Boxes because they usually have a mouse pointer included on the remote.
Mouse Toggle allows you to use a pointer on the screen to click various items that your remote control wouldn't normally support.
How to Install Mouse Toggle on Firestick or Fire TV
How to Install Mouse Toggle on Android TV
Tell us in the comments section what your favorite Android TV Box is and why?  Have you tried a generic Android TV Box running stock Android?